Die Open Source Firewall, pfSense, die inzwischen zu Netgate gehört, aber weiterhin kostenlos angeboten wird, wurde in der Version 2.4.0 veröffentlicht.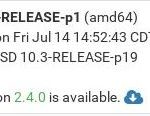 Laut Entwickler wurden 18 Monate bei Netgate und der Unterstützung der Community daran entwickelt. Es wurden mehr als 290 Punkte abgearbeitet, 671 Dateien mussten angepasst werden. Insgesamt wurden 1.651.680 Codezeilen hinzugefügt und 185.727 Zeilen gelöscht. Die meisten Änderungen betreffen jedoch die Sprachunterstützung die in pfSense 2.4 nochmals ausgebaut wurde. Es wurde also so gut wie kein Stein auf den anderen gelassen und sämtliche Komponenten angefasst.
Interessant ist für einige bestimmt die neue microFirewall SG-1000 mit ARM Cortex-A8 600MHz CPU, 512MB RAM, 4GB eMMC Flash, 2x 1Gbe RJ45, 200,000 aktiven Verbindungen bei 2,5W und einem Preis von ca. 149USDollar (inkl. pfSense Gold Support)
! Achtung – das Upate setzt zwingend 64 bit Hardware voraus. Alte Versionen vor 2.4 werden weiterhin mit Security Patches versorgt. Aber dennoch soltle jeder mit einer 32 Bit Version in nächster Zeit neu auf x64 installieren. Mehr in den Notes unten:
pfSense 2.4.0 Release Notes Highlights
https://doc.pfsense.org/index.php/2.4_New_Features_and_Changes
FreeBSD 11.1-RELEASE as the base Operating System
New pfSense installer based on bsdinstall, with support for ZFS, UEFI, and multiple types of partition layouts (e.g. GPT, BIOS)
Support for Netgate ARM devices such as the SG-1000
OpenVPN 2.4.x support, which brings features like AES-GCM ciphers, speed improvements, Negotiable Crypto Parameters (NCP), TLS encryption, and dual stack/multihome
Translation of the GUI into 13 different languages! For more information on contributing to the translation effort, read our previous blog post and visit the project on Zanata
WebGUI improvements, such as a new login page, improved GET/POST CSRF handling, significant improvements to the Dashboard and its AJAX handling
Certificate Management improvements including CSR signing and international character support
Captive Portal has been rewritten to work without multiple instances of ipfw
Additional benefits of FreeBSD 11.0 and 11.1 include:

Security enhancements such as address space guards to address Stack Clash
New and updated drivers for a variety of hardware
Updated 802.11 wireless stack
Updated IPsec kernel implementation
Support for Microsoft® Hyper-V™ Generation 2 virtual machines, and other Hyper-V support improvements
Elastic Networking Adapter (ENA) support using the ena(4) FreeBSD driver for "next generation" enhanced networking on the Amazon® EC2™ platform
Operating System / Architecture changes
Upgrade of base OS to FreeBSD 11.1-RELEASE-p1
Added support for Netgate ARM-based systems such as the SG-1000
32-bit support has been deprecated and removed — There are no images available for 32-bit (x86/i386) Intel architecture systems
NanoBSD has been deprecated and removed — There are no images available for NanoBSD, use a full install instead
Started using the FreeBSD installer instead of the old style installer (installation procedures have all changed)

The installer now supports UEFI #4044
If the new installer image will not boot on a specific piece of hardware, see Boot_Troubleshooting#GPT_Boot_Issues
The installer now supports ZFS
Added support to the new installer to copy an existing config.xml off an MS DOS formatted USB drive (formerly known as "PFI") #7689
Added support to the new installer to optionally recover config.xml off an existing installation drive (works with UFS and ZFS) #7708

Fixed issues with major version base upgrades via pkg
Changed cryptodev to load as a kernel module #5976
Security / Errata
Converted various parts of the GUI to use POST instead of GET when performing actions that change the firewall state (e.g. delete or enable/disable an item) to avoid potential issues with cross-site request forgery and unintentional repeating of actions #4083
FreeBSD 11.1 includes MAP_GUARD protection to protect against attacks such as Stack Clash
A number of base system packages have been updated to address security issues, including dnsmasq, perl, cURL, and others.
Firmware Branch Behavior / Upgrading From Snapshots
To control how a firewall obtains updates, visit System > Update, Update Settings tab:
For users currently running 2.3.x-RELEASE:

Stable, which is the default behavior, will upgrade the firewall to 2.4-RELEASE when it is complete, but will not upgrade to 2.4-RC
Development Snapshots will upgrade the firewall to 2.3.5 development snapshots
Next major version will upgrade the firewall to 2.4-RC

For users tracking pfSense 2.4 snapshots:

Stable, which is the default behavior, will upgrade the firewall to 2.4-RC and eventually 2.4-RELEASE
Development Snapshots will cause the firewall to continue tracking snapshots, bypassing 2.4-RELEASE and continuing on to 2.4.1 development images
Known Issues
Some systems may not be able to boot 2.4 installation images, for example, due to UEFI compatibility changes. These are primarily BIOS issues and not issues with the installer images. Upgrading from 2.3.x should still work on affected hardware.
Users with ESXi 6.5.0 U1 (Bulld 6765664) may experience a boot-time crash during hardware detection, due to a race condition in the FreeBSD VT console code. This crash is infrequent and does not affect most users or most boot attempts, but since it is a race condition it can manifest randomly. To avoid the crash, configure the VM to use the syscons console rather than vt by editing /boot/loader.conf.local and adding this line:
 kern.vty=sc

Cleanup
Misc code cleanup, removal of patches that were no longer necessary or were inefficient
Replaced multiple local copies of PHP PEAR libraries with updated copies using their official sources #3734

Notably, local static copies were replaced by their FreeBSD ports counterparts: pear, pear-XML_RPC2, pear-Net_IPv6, pear-Crypt_CHAP, pear-Mail, pear-Net_Growl
Code that relied on the old files was updated to use the current or replaced versions

Removed all references to GLXSB (it was 32-bit only) #6755
Removed all code in the builder and pfSense for handling the NanoBSD platform
Removed all calls to conf_mount_rw / conf_mount_ro, since they were only required for NanoBSD
Improved help text in various parts of the GUI
Wireless
FreeBSD 11 contains an updated 802.11 stack with numerous improvements
Wireless interfaces must be created on the Wireless tab under Interfaces > Assignments before they can be assigned! #6770
Firewall / Rules / NAT / Aliases
Fixed issues with synproxy rules on a WAN/LAN style bridge #6769
Fixed issues with limiters on rules that utilize NAT #4326
Fixed issues with limiters used in conjunction with a transparent proxy or other local redirect rule #7050
Fixed expansion of "Other" type VIP subnet entries in NAT destination drop-down selections #6094
Fixed NAT rules so that when a port forward is disabled, its associated firewall rule is also disabled #6472
Fixed handling of "URL Table (IPs)" and "URL (IPs)" when the file is hosted a server using HTTPS with a self-signed certificate #4766
Show firewall rule descriptions in a column when viewing the log on new installs, upgrades retain their existing setting #7323
Fixed firewall states showing a negative value for total bytes processed #7075
Fixed handling of Port Forwards so they do not make up new destination information when a configured against a DHCP interface that does not currently have an address
Fixed VLAN Priority pf syntax #7744
Fixed a problem where pf scrub did not properly re-fragment unusual but valid IPv6 fragments, resulting in overlapping fragments #7485
Fixed confirmation prompt handling when deleting a firewall state from diag_dump_states.php #7827
Changed display of 1:1 NAT rules to match other firewall pages #7728
Traffic Shaping
Added extra warnings to traffic shaping pages when the firewall has no interfaces capable of using ALTQ shaping #7032
Fixed handling removal of shaping rules when deleting an interface #7231
Added upgrade code to work around broken shaper rules from older wizard code #7434
Fixed the Traffic Shaper so it shows interface names for disabled interfaces, rather than an 'empty' placeholder.
Fixed handling of the priority field for different ALTQ shaper types
OpenVPN
Upgraded OpenVPN to 2.4.x. #7054

This is a significant upgrade which includes support for a wide variety of new features, including AEAD ciphers such as AES-GCM.
AES-GCM can be accelerated by AES-NI, and is supported in SSL/TLS modes (not shared key) #7068
Added support for TLS Encryption as an optional TLS Key usage type. This encrypts the control channel, providing privacy and protocol obfuscation #7071
Added ECDH options to OpenVPN server and client options ("ECDH Only" choice for DH, ECDH Curve selection) #7063
Restructured the compression options to include LZ4 support and the new "compress" directive which replaces "comp-lzo" which has been deprecated. The old options remain for now, but are labeled "Legacy" #7064
Changed protocol selection for OpenVPN clients and servers because OpenVPN 2.4 treats "udp" and "tcp" as dual stack now #7062

Added "multihome" option in relevant protocol cases so OpenVPN will reply back using the address used to receive a packet #7062

Changed the DNS Server fields in the OpenVPN server options so they can define either IPv4 or IPv6 DNS servers to push to clients #7061
Added IPv6 support to status_openvpn.php and the OpenVPN widget #2766
Removed uses of the deprecated "tun-ipv6" OpenVPN directive, OpenVPN now always assumes IPv6 is enabled #7054
Replaced uses of the deprecated "client-cert-not-required" directive with its functional replacement "verify-client-cert none" #7073
Added support for Negotiable Crypto Parameters (NCP) to control automatic cipher selection between clients and servers #7072
NOTE: OpenVPN 2.4 handles CRL verification differently than previous versions, passing through validation to the library rather than handling it internally. This can cause some certificates to fail validation that may have passed previously. In particular, if a certificate is removed from a CRL, it may still fail validation until all copies of the CRL have been rewritten.
IPsec
Upgraded strongSwan to version 5.6.0
Changed the default strongSwan logging levels such that IKE SA, IKE Child SA, and Configuration Backend all default to "Diag" #7007
Added an option to set the Rekey Margin for IPsec tunnels in the Phase 1 settings
Added RADIUS accounting support for mobile IPsec when accounting is enabled on the Authentication Server entry
Added checks to prevent simultaneous/repeated calling of vpn_ipsec_configure() by /etc/rc.newipsecdns
Added DH Groups 22, 23, 24 to IPsec Phase 2 selection for compatibility, but they should not normally be used for security reasons #6967
Certificate Management
Added a check to ensure that the public key of the Certificate matches its private key when importing Certificate Authority and Certificate entries to prevent mismatching keys from being imported #6953
Fixed error handling when creating a Certificate from the User Management section, failed actions will no longer fail silently #6953
Fixed handling of Certificates generated from an imported CA when no starting serial number was set #6952
Fixed handling of Certificate Authority deletion so that it does not remove associated certificates #6947
Added "in-use" testing for Certificate Authority entries and disabled the delete action for CAs which are actively in use #6947
Fixed choosing an existing user certificate when adding a certificate to an existing user #7297
Added the ability for the certificate manager to sign a CSR using an internal CA #7383
Added the ability to set the certificate type and SAN attributes in a Certificate Signing Request #7527
Restructured how certificate types and SANs are handled in the cert manager when making a Cert/CSR/Signing, so each section can properly use the controls #7527 #7677

It is now possible to add SANs and EKUs to certificates when signing using the certificate manager
NOTE: Attributes such as SANs and KU/EKU cannot be copied from a CSR when signing due to a deficiency in OpenSSL's x509 functions (they do not support "copy_extensions" at this time); These attributes must be specified manually when signing

Fixed "server" certificate detection to key off of the EKU For "TLS Web Server Authentication" since nsCertType has been deprecated
Added SAN, KU, and EKU information in an info block for each entry in the the certificate list #7505
Added the ability to use a wider range of characters in certificate fields as laid out by RFC 4514 #7540
Added a useful error message when there is no private CA with which to create a new user certificate from within the user manager #7585
Fixed the User Manager so it adds the username as the first SAN when making a user certificate at the same time a user is created #7666
Added another possible Certificate Signing Request Armor string when validating on import #7383
Dynamic DNS
DHCP Server / Relay
Fixed handling of DHCPv6 lease status when there are no leases #6717
Fixed issues with DHCP Relay not working #6658
Added input validation to prevent the DHCP server from being configured on interfaces that do not have enough addresses for clients (/31, /32) #6930
Fixed issues with the DHCP Relay options display getting out of sync with checkbox settings #7155
Fixed static DHCP lease edits updating BIND zones #3710
Fixed checks for DHCP Relay when editing additional DHCP pools
Fixed handling of forced Dynamic DNS hostnames for DHCPv6 static mappings #7324
ARP / NDP
Fixed static ARP handling when creating or editing DHCP static mappings #6821
Added error checking for static ARP entries to ensure both an IP address and MAC address are entered, and to ensure that both exist before an entry is applied #6969
Improved the detail displayed on the ARP table view #6822
Added an expiration field to the NDP list
Captive Portal
Adapted Captive Portal to work without multi-instance ipfw patches #6606
Fixed Captive Portal instances to select "No Authentication" for a zone by default, since it is the default behavior #7591
Fixed links to the Captive Portal MAC management page so they include the zone name #7591
XMLRPC
Switched to pear-XML_RPC2 and removed the outdated static client files
Fixed handling of XMLRPC sync using a username other than "admin" #809
Routing/Gateways
Removed "route change" patches and updated code that relied on the deprecated behavior #6828
Fixed handling of default routes when a default gateway is removed or disabled #6659
Fixed discovery of IPv6 gateway for assigned OpenVPN interfaces #6016
Fixed issues with a missing default gateway/route on certain PPPoE links after reconnect or IP address change #6495
Fixed some 'route: writing to routing socket: Invalid argument' warnings during boot time
Added a log message for gateway events that shows that an alarm was raised/cleared
Added a check to not run dpinger when an IPv6 address has the tentative flag even after the timeout
Added a delay to allow dpinger time to properly initialize before using results
Interfaces / Virtual IP Addresses
Removed Device Polling as it was no longer useful #7021
Fixed handling of rc.newwanipv6 when run from dhcp6c so it only runs when required and not for any change #7145
Fixed handling of SIGTERM and SIGKILL in dhcp6c #7185
Fixed dhcp6c not starting until an RA is received #5993
Fixed a PPP service name error with certain providers, such as T-Mobile #6890
Fixed 3G service status so it does not report misleading information #4287
Added support for the IPv6 AUTO_LINKLOCAL flag on bridge interfaces
Disabled DAD on stf interfaces to fix problems with dpinger
Added an option to use static IPv6 over an IPv4 PPP parent (e.g. PPPoE) #7598
Removed unused WINS code for L2TP #7559
Improved L2TP Server DNS input validation #7560
Added a test to disable internal L2TP users when activating RADIUS, to follow the behavior stated in the GUI #7561
Fixed L2TP section log shortcut #7564
Fixed upgrade handling of wireless interfaces #7809
NTP
User Management / Authentication
Fixed delays during bootup when LDAP is enabled for user authentication #6367
Added privileges to control which users can view and/or clear notices #7051
Added an authentication cache mechanism for GUI authentication from a remote server (e.g. LDAP, RADIUS) so the authentication is checked periodically (default: 30s) instead of on each page load #7097
Added protocol selection (PAP, MD5-CHAP, MS-CHAPv1 and MS-CHAPv2) to RADIUS authentication server options #7111
Added the username to the page to display when adding user privileges #7586
Standardized privilege page and sorting between users and groups #7587
Added a log message if a user tries to save the configuration but has the 'deny config write' permission
Added "auth_check" type of simple test that a page can use to verify a user is logged in and has access, using less cpu, which is better for AJAX data polling
Fixed certificate chain verification issues with LDAP authentication using intermediate CAs #7830
Fixed PHP errors when STARTTLS fails for LDAP authentication
Packages
Fixed issues with snort, squid/clamav, and squidGuard when /var is in a RAM disk #6878
Fixed handling of custom_php_deinstall_command during post-deinstall of a package #7401
Changed package related calls to get_pkg_info() to use the new pkg metadata mechanism
Console / Menu
Added options to the console reboot menu selection to reboot into single user mode or run filesystem checks #6639
OS Upgrade
Fixed issues when upgrading to 2.4 with a stale package .inc that caused a PHP error #6920
Changed the upgrade script to use reroot instead of reboot for updates that do not include a new Kernel #6045
SNMP
Added a workaround to prevent the hostres module from being used with bsnmpd on VMware Virtual Machines that have a cd0 device, which caused 100% CPU usage #6882
Services
Converted all mpd-based features (e.g. PPPoE and L2TP server) to MPD5 if they used an older version #4706
Removed unused and non-functional SMART service handling and e-mail configuration #6393
Fixed IGMP Proxy failing to recognize an upstream interface #6099
WebGUI
Added support for multiple languages, currently that list includes:

US English (Default), Bosnian, Chinese (Simplified, China), Chinese (Taiwan), Dutch, German, Norwegian Bokmal, Polish, Portuguese (Brazil), Russian, Spanish, Spanish (Argentina)

Changed the design of the login page for the WebGUI to a more modern style, with several color choices available
Added URL fingerprinting to JavaScript and CSS file references to improve client-side behavior when files change between versions #7251
Updated Logo to the new logo and made it a vectorized SVG image for better scaling
Updated favicon to the new logo and added multiple sizes for different platforms
Completed work to mark required fields on GUI pages #7160
Fixed long hostnames overlapping the "time" title in the monitoring graphs #6138
Fixed CIDR/Prefix selector handling for IPv4/IPv6 #7625
Removed the Gold menu
Fixed handling of info block content inside tables #7504
Improved handling of PHP errors for user-entered PHP code on diag_command.php
Fixed alignment of the the IPv6 over IPv4 input fields #7128
Optimized retrieval of Traffic Graph data to reduce spikes in the graphs and load on the firewall
Fixed a problem with the traffic graphs not respecting the theme colors #6746
Revised setup wizard wording and links
Dashboard
Rewrote Dashboard AJAX updating in a centralized and optimized way to reduce load, improve accuracy, and increase speed
Added a new Customer Support dashboard widget, enabled by default and on upgrade
Changed the way AJAX updates are handled on the Dashboard widgets to improve efficiency and fix issues with some widgets refreshing in a timely manner
Added filters to more dashboard widgets #7122
Added customization for dashboard widget names
Fixed Interface Statistics dashboard widget issues with interfaces in a "down" state
Fixed formatting issues with the Interface Statistics dashboard widget #7501
Added the ability to place multiple copies of widgets on the dashboard, optional for each widget
Added a line to display detected CPU cryptographic hardware, such as AES-NI, in the System Information dashboard widget even if the module isn't loaded #7529
Fixed CPU package/core count displayed on the System Information dashboard widget
Changed how pkg metadata is handled to reduce the load on the Dashboard and reduce unnecessary calls to the pkg server for the System Information dashboard widget update check, and for the Installed Packages dashboard widget
Changed CPU usage calculation in the System Information dashboard widget to avoid sleep() in an AJAX call
Fixed the IPsec widget tunnel status to handle newer strongSwan childid format #7499
Fixed error when saving Wake on LAN dashboard widget without any WoL entries
Fixed a problem where traffic could be counted twice in traffic graphs #7751
Fixed a problem with the Installed Packages dashboard widget when no packages are installed #7811
Changed date formats of some fields on the Dashboard to be more consistent #7805
Added an option to the Interface Statistics dashboard widget to rotate the table (put interfaces in rows instead of columns) to improve the display on firewalls with numerous interfaces #7501
pftop
Removed the "size" option from pftop as it had no effect, use the "bytes" option instead #7579
Removed the 'peak' and 'rate' views for pftop since they only work in interactive mode with cached data, not batch mode which is used by the WebGUI #7580
Fixed path to an old copy of the pftop WebGUI page in obsolete list #7581
DNS
Changed /etc/hosts such that the FQDN is listed first, except for localhost, so that dnsmasq will properly reverse resolve hostnames #7771
Fixed a problem where the DNS Search Domain List was not being populated into radvd.conf #7081
Enabled Python support for Unbound #7549
Added a control to disable automatically added host entries in Unbound
Changed the way unbound is started at boot time on systems with DHCP6 WANs
Misc
Added hardware support and detection for new Netgate models
Changed the User Agent passed to outbound requests from pfSense to include more accurate host information
Added the User Agent to the request data when updating the Bogons list
Fixed growl and SMTP notifications so performing a test saves first, so the new settings are used as expected #7577
Fixed loading issues with PHP extensions #6628
Removed symbolic links for configuration files that redirected items from /etc/ to /var/etc/ #5538
Added the ability to filter Packet Captures by MAC address #6743
Updated status.php with new info and changed its output organization #7047
Fixed a problem where a proxy defined for use by the firewall could not use HTTPS when using proxy authentication #6949
Improved RAM disk backups and file management #7098
Changed the way RAM disk contents are handled when enabled #5897
Changed various support functions to better facilitate translation to additional languages
Fixed interface name display on the Router Advertisement configuration page #7133
Fixed various issues with handling of unusually formatted, but valid, IPv6 addresses #7147
Improved error handling when a client is logged when it attempts to poll data via rrd_fetch_json.php #6748
Fixed various issues when the configuration backup count was set to 0 (disabled) #7273
Fixed handling of "0" for the number of backups to retain in the configuration history #7273
Fixed an issue with long configuration change descriptions leading to wrapping issues in certain cases such as AutoConfigBackup #6363
Fixed an issue with installing packages from a backup when restoring using the External Configuration Locater on the first boot post-install #7914