Für die Creality 3D Drucker Ender 3 V2 und Ender S1 gibt es die alternative Firmware von Mrisoc, die auf der Open-Source Firmware Marlin basiert und speziell für Ender 3 V2 und S1, angepasst und optimiert ist.
Mriscoc Firmware 20221002 Release Notes
What's new in this release
Shortcut option for turning off the backlight in toolbar
Filament run-out sensor enable/disable in tune menu
Enhanced Host printing support
Better C10 support
Axis value in dash board shows actual position of the axes, including Z leveling
Raise Z to Probe Clearance position before of a Probing Z Reference
New ProUI Info box
Fix #344
Fix mesh slot load message bug
Enable support for Creality Slicer G-code file with embedded thumbnail for Ender3V2 Neo
Implements a user option for centering the menu title by defining TITLE_CENTERED in configuration files
Force drawing of Z-axis value on screen redrawing
Automatically reboot to apply default settings on first boot after flash.
Code optimization
From last Marlin bugfix 2.1.x
Emergency Parse M524 (#24761)
Fix inverse_accel redefine
Minor planner optimization (#24737)
UBL G28 leveling fix (#24622)
Fix / refactor shared PID (#24673)
Report M22 / M23 success / fail (#24706)
Constrain UBL within mesh bounds (#24631)
Other general fixes
This firmware is based on Marlin, has been optimized and has enhancements for the Creality Ender 3 V2/S1 printer. This is an universal firmware that can be used in both RET6 and RCT6 STM32FX chips that have 256k or 512k Flash memory.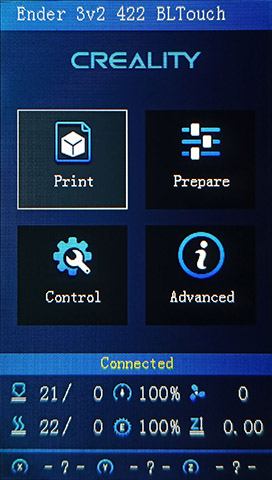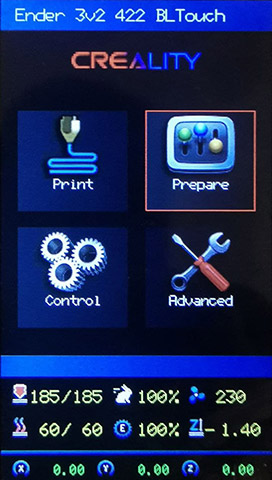 Requirements
In order to use this firmware, your printer must meet the following requirements:
A compatible control board: Creality 4.2.2, 4.2.3, 4.2.7, V24S1_301F1, V24S1_301F4 or SKR Mini E3_V3 for Ender series printers with a STM32 SoC.
A DWIN or DACAI color screen with encoder knob. Touch screens are not supported.
You can modify your printer to meet these requirements.
Versions
Ender 3v2 MM: if you have the Ender 3v2 near to stock then use this version (Manual Mesh).
Ender 3v2 BLT: use this version if you installed a CR/3D/BLTouch level sensor in the Ender 3v2.
Ender 3S1: use this version if you have an Ender 3S1 printer
alle Infos unter: https://github.com/mriscoc/Ender3V2S1/releases/tag/20221002
Interessiert in verschiedenste IT Themen, schreibe ich in diesem Blog über Software, Hardware, Smart Home, Games und vieles mehr. Ich berichte z.B. über die Installation und Konfiguration von Software als auch von Problemen mit dieser. News sind ebenso spannend, sodass ich auch über Updates, Releases und Neuigkeiten aus der IT berichte. Letztendlich nutze ich Taste-of-IT als eigene Dokumentation und Anlaufstelle bei wiederkehrenden Themen. Ich hoffe ich kann dich ebenso informieren und bei Problemen eine schnelle Lösung anbieten. Wer meinen Aufwand unterstützen möchte, kann gerne eine Tasse oder Pod Kaffe per PayPal spenden – vielen Dank.