Die Community und Entwickler der beliebten Open-Source Cloudlösung, Nextcloud, haben vor wenigen Tagen die neue Version 14.0.1 veröffentlicht. Diese Version behebt hauptsächlich Fehler die seit der neuen Version 14, gefunden wurden.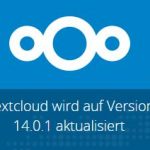 Nextcloud 14.0.1 Release Notes
Quelle: https://nextcloud.com/changelog/
Diese Apps werden aktualisiert:
Activity (activity)
Comments (comments)
WebDAV (dav)
Federated file sharing (federatedfilesharing)
Federation (federation)
Files (files)
PDF viewer (files_pdfviewer)
File sharing (files_sharing)
Text editor (files_texteditor)
Deleted files (files_trashbin)
Versions (files_versions)
Video player (files_videoplayer)
First run wizard (firstrunwizard)
Gallery (gallery)
Lookup Server Connector (lookup_server_connector)
Nextcloud announcements (nextcloud_announcements)
Notifications (notifications)
OAuth 2.0 (oauth2)
Password policy (password_policy)
Provisioning API (provisioning_api)
Monitoring (serverinfo)
Share by mail (sharebymail)
Usage survey (survey_client)
Collaborative tags (systemtags)
Theming (theming)
Two factor backup codes (twofactor_backupcodes)
Update notification (updatenotification)
Files workflow engine (workflowengine)
Diese inkompatiblen Apps werden deaktiviert:
Talk (spreed)
(templateeditor)
Update Fehler von 13.0.6 auf 14.0.x
Hier kann das deaktivieren der Bookmarks und ein erneutes Update über die CLI helfen.
Nextcloud 14 Fehler INTL Extension
Error PHP You are using a fallback implementation of the intl extension. Installing the native one is highly recommended instead. at /var/www/nextcloud/3rdparty/patchwork/utf8/src/Patchwork/Utf8/Bootup/intl.php#18
Lösung:
# apt install php7.2-intl
# systemctl restart php7.2-fpm.service
Interessiert in verschiedenste IT Themen, schreibe ich in diesem Blog über Software, Hardware, Smart Home, Games und vieles mehr. Ich berichte z.B. über die Installation und Konfiguration von Software als auch von Problemen mit dieser. News sind ebenso spannend, sodass ich auch über Updates, Releases und Neuigkeiten aus der IT berichte. Letztendlich nutze ich Taste-of-IT als eigene Dokumentation und Anlaufstelle bei wiederkehrenden Themen. Ich hoffe ich kann dich ebenso informieren und bei Problemen eine schnelle Lösung anbieten. Wer meinen Aufwand unterstützen möchte, kann gerne eine Tasse oder Pod Kaffe per PayPal spenden – vielen Dank.