Discourse ist eine Open-Source Websoftware für die Erstellung und Verwaltung von Internetforen. Sie ist in über 96 Sprachen übersetzt, besitzt viele Funktionen wie Anti-Spam Blocking, Chat innerhalb von Forenthemen, mobile Ansicht uvm. Sie hat als Ziel zeitgemäß und modern in der Erscheinung und Bedienung zu sein. Discourse selbst bietet kostenpflichtiges Hosting (Daten liegen nicht in Deutschland), aber auch selbst gehostete Foren sind möglich.
Wir empfehlen Purwin-IT für ein managed Discourse Hosting in Deutschland.
Discourse 3.1.0 beta6 Release Notes
Security Updates
This release includes fixes for these security issues reported by our community and HackerOne 1.
Threads inside Discourse Chat
Threads are scoped conversations happening parallel to the main chat channel. In channels where threads are enabled, replying to a message will automatically start a new thread where conversations can continue on the side. To start using threads in your favorite channels, see Introducing chat threads!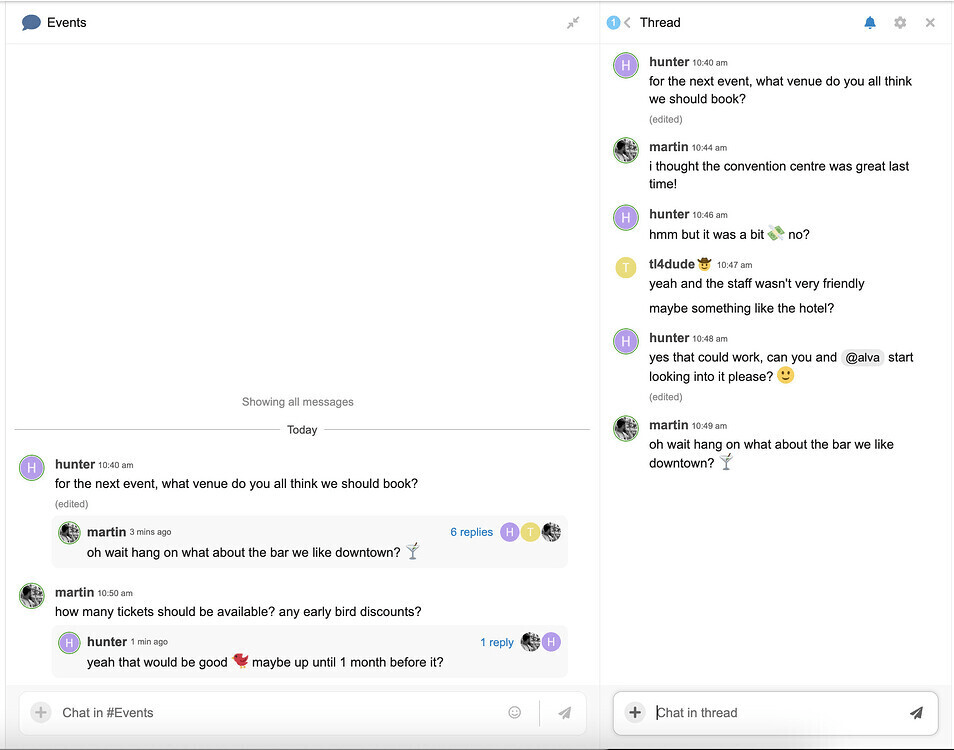 Image grid in posts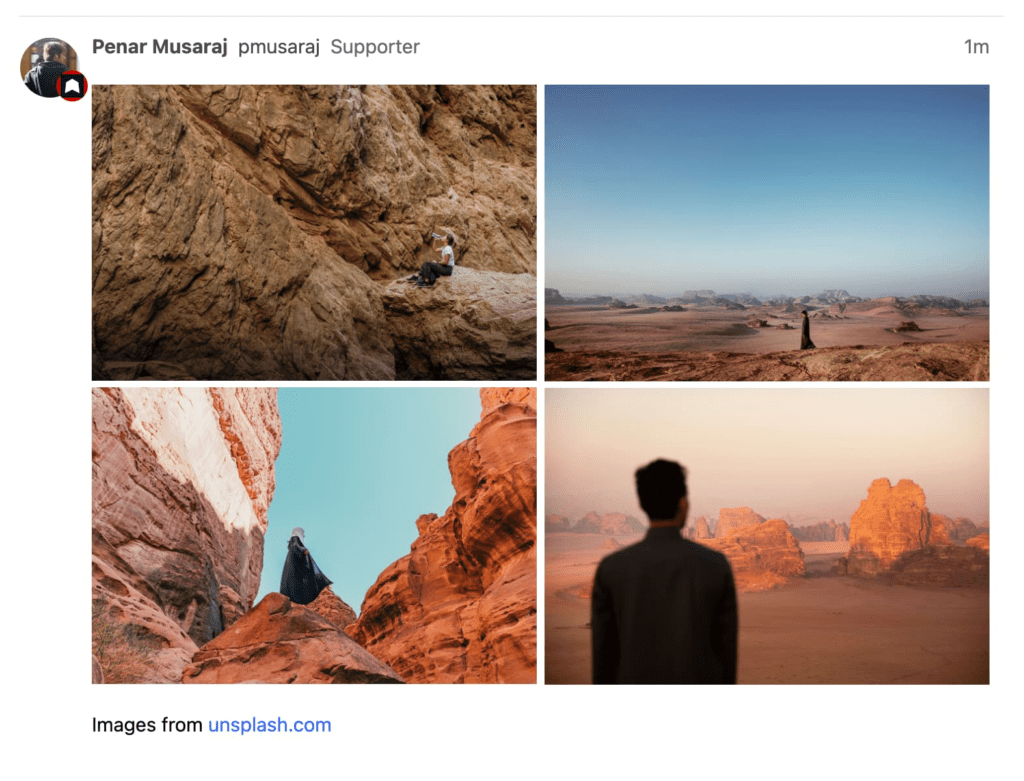 We added a new feature that can arrange images (or other media) into a grid in posts. Users can add the [grid] tag around images or uploads manually, or they can use an icon next to the first image in a block of images in the composer preview to toggle the grid on/off.

Export chat messages to CSV file
Admins can now export chat messages by going to /admin/plugins/chat and clicking the Create export button in the Export chat messages section: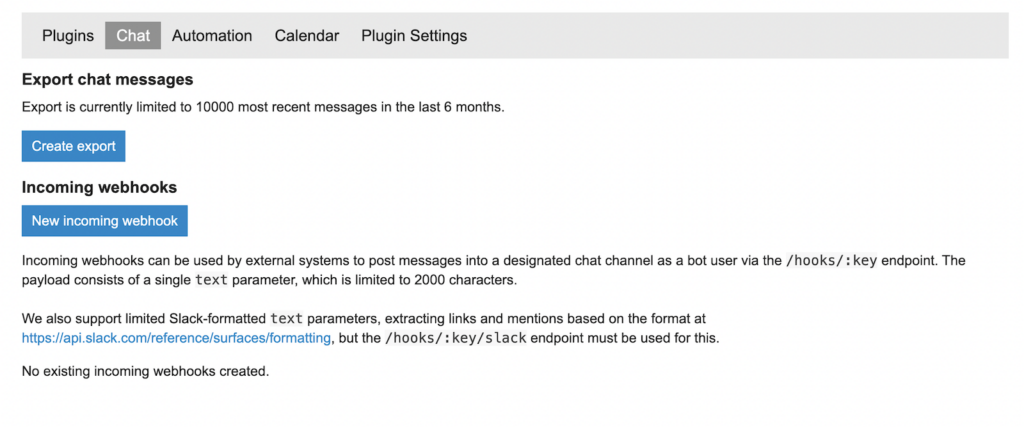 Then, admins will receive a PM with the exported file once ready. At the moment, the feature allows you to export up to 10,000 messages within the last 6 months. For more details, see the PR description 1.
In the navigation menu, we added a new modal to configure tags and categories, with filters to easily find what you're looking for. To try it, click the pencil icon in the Categories or Tags sections of your menu.
Options to reset to defaults or to see the most popular items in the menu by de-selecting all have also been added.
For more background about this change see this topic 6
To replace the full-page loading spinner with a loading bar at the top of the screen, functionality from the Horizontal loading slider 8 theme-component was merged into Discourse.
This new loading indicator is now the default. The old spinner is planned to be removed in the near future, but remains an option for the time being by changing the page_loading_indicator site setting from slider to spinner. Admins on sites with the old theme component will be shown a prompt to uninstall it.
Plugin improvements
discourse-ai
New Features
Try to hone search so it reduces search terms in subsequent rounds
Add ai_bot_enabled_chat commands and tune search
Add Azure cognitive service support
Add full bot support for GPT 3.5
Bug Fixes
Typo while updating a section
Claude's max_tookens_to_sample is a required field
Adjust token limits to account for functions
Avoid storing corrupt prompts
OpenAI Tokenizer was failing to truncate mid emojis
Serialize channel title for DMs
Bug Fixes
Delete reviewable when posts are deleted by user destroyer class.
discourse-assign
Bug Fixes
Sum assignments for group and group users
discourse-automation
New Features
Add first accepted answer triggerable to user global notice
discourse-cakeday
UX Changes
Add birthday cake icon when adding link to sidebar
discourse-calendar
Bug Fixes
Add missing Malaysia holidays for 2023
discourse-category-experts
Bug Fixes
Pass variables into plugin outlet correctly
discourse-client-performance
New Features
Report INP target selector
Collect 'interaction next paint' metric
Bug Fixes
Use correct script path on subfolder installations
discourse-code-review
Bug Fixes
discourse-data-explorer
Bug Fixes
discourse-docs
New Features
Use the same structure as core topic-list-item and add topic excerpts to docs index
Bug Fixes
discourse-gamification
New Features
Make scores click link to global leaderboard (both in user profile and user card)
Bug Fixes
Score recalculation didn't update a user daily score if new score was 0
discourse-invite-tokens
Bug Fixes
discourse-patreon
UX Changes
Add missing font awesome icon in login button
discourse-post-voting
Bug Fixes
discourse-solved
Bug Fixes
Search bug for status:unsolved returns topics from non-solution enabled categories
discourse-tooltips
UX Changes
Don't show tooltips when no text is available
All Features and Fixes
New Features
Show tooltip for bootstrap mode
Warn about outdated translation overrides in admin dashboard
Separated 'trusted users can edit others' setting for trust level 3 & 4
Add default site settings to control the defaults of navigation menu preferences
Basic support for threads.net 2 onebox
Enable loading slider by default
New jump to channel menu
Introduce 'loading slider' for page navigations
Allow user to override watched_precedence_over_muted setting
Use rich user status tooltip everywhere
Allows to enable/disable threading in UI
Track last_viewed_at datetime for channel members
Show available interpolation keys when overriding translations
Sort thread list by unread threads first
Conditionally change back button route for thread
New watched_precedence_over_muted setting
Try to load plugin gems platform variants
Show first notification tip to all users
Add hooks for email poller plugins
Display commit hash for each plugin on /admin/plugins page.
Add dropdown to filter by selected in edit nav menu modal
Split navigation preference for count and behavior of sidebar links
Add db:resize:notification_id task for growing table
Export chat messages to CSV file
Add deslect all and reset to defaults btn edit nav menu modal
Add input filter for editing tags in navigation menu modal
Add modal for editing tags in navigation menu
Scroll to first message when clicking date in chat
Enable image grid by default
Allow users to manually track threads without replying
Thread indicator improvements and participants
Implement max_tags_per_email_subject
Bug Fixes
Conditionally hide Add Alternate Email button based on site setting
Default parameter recipients to create new message via params must be a string
Update remaining backup code count after creation
Ensure dialogs are still rendered if triggered during boot
Makes chat user avatar show presence by default
Always clear caches after committing the current transaction
Typo in property name
Don't use etags for post-upload verification
Show preview of Arial/System font in wizard
Track thread in UI when user sends first message
Can't dismiss new topics for experimental new new view
Don't redirect when manually adding 2fa
Correctly makes dm creator to follow channel
Set test transaction to before_all transaction
Do not attempt to focus topic-list-item after destroy
Removes discourse-teams-sidebar support
Limits legacy sidebar height
Add missing chat translations
Mark threads read when threading enabled for a channel
Show replies count on thread indicator regardless of participants
Avoid transitioning when a chat thread component is destroyed
Post alerter notification when topic directly watched
Better handling of deleted thread original messages
Prevent field name conflicts when using the groups_for_users_search modifier
More consistent composer focus and replying indicator
Do not filter on category name
Correctly show unread and presence
Error when loading a channel with threading enabled but no threads
Mobile share canonical URL
Minor Twitter onebox improvements
Correctly intercept "<a href target="_self"`
Allow to use %h%m%s for youtube t param
Improve performance of post alerter job
Tags in tag groups not shown in edit nav menu tags modal
Preload fonts before rerendering wizard style canvas
ActiveModel::Types :array load error in production
Revert uppy aws-s3 upgrade
Do not follow redirects for twitter oneboxes
Consistent sidebar section external links
Fix normalize_raw method for nil inputs in migration scripts
DateTimeInputRange should show correct intervals with @relativeDate param
A mobile header regression in 9cc2b5c
Error when CategoryList tried to find relevant topics
Chat threads N1
Set Jobs::BackfillSidebarSiteSettings cluster concurrency to 1
Nest theme translation data so it saves
Cater for polls that can have multiple votes per user
Hide "Save Draft" button when editing post on same topic.
Abort transition when transition.from present on new-topic route
Render plugin's commit URL correctly and open in new window.
Show tag chooser in composer for PM on mobile
Longer touch for active message
Sidebar dot color when chat is off
Attempt to reconnect to server when browser visibilty changes
Use Twitter API v2 for oneboxes and restore OpenGraph fallback
Force ordering to make things more consistent and fix flaky test
Staged user creation loses user custom field data
Site's top tags not shown for anonymous user
Update unread and new count for categories
'in all topics' should search in all topics
Don't error when clicking on a custom link in community section
Add aria-label attribute to cooked hashtags
Make the arrow and tooltip background the same color
Theme translations resetting on save
Don't add "Re:" prefix in email subject for first post of group PMs.
Broken group messages inboxes when group name is mixed case
Small bug with topics and my posts translations
Incompatibility between default_composer_category and default_subcategory_on_read_only_category
Restore behavior of window.Discourse
Correctly sets and uses has-reply class
Css class was incorrect
Various mobile chat improvements
Direct message channels can be flagged
Allows selection of messages in threads
Minor thread indicator issue
De-duplicate poll vote on user merge
Rename everything link to topics
Update sidebar to be navigation menu
Moderator(non-admin staff user) group visibility scope queries
Don't add the no-text class if translatedLabel is present
Correctly get the topic_id from the first post
Update workbox class references following version bump
Allow half-merged user to be accessed in admin UI
Backfill chat thread memberships
UX Changes
Improve user tips
Double scroll fix for keyboard shortcuts modal
Remove section heading for community section
Lower border radius for channel cards
Fix margin for group label
Indicate main sidebar section is always public
Change z-index of thread resizer to be below emoji popup
Message creator spacing and sizing on mobile + fix text wrapping
Do not show presence in message creator selection
Clarify "disable tags/category notification" settings
Adjust sidebar modal styles, consolidate css
Improve position of modal close button
Thread indicator small fixes
Visual indicator for reorder sidebar links mode
Make template fields fill the container width
Use modals to edit categories and tags that appear in sidebar
Align chat separators, increase mobile chat width
Add max-width to thread indicator
Fix position of filters in edit categories/tags nav menu modals
Order categories in edit navigation menu modal by name
Fix user preference saved! position
Chat message thread indicator improvements
Adding max height to image in chat blockquote
Fix overridden setting highlight color
Fix edit tags/categories navigation menu modal has no focus on input
Adds small delay before making message active
Display spinner while loading tags for edit nav menu tags modal
Remove horizontal scroll on mobile for edit categories nav modal
Remove short topic timeline transition
Fix avatar selector overflow
Consistent button hover transitions
Improve defaults shown for categories and tags section in sidebar
Softer dropdown and menu panel shadows
Stack group inbox label horizontally
Hide sidebar on invites page
Remove branded blobs background
Add required indicator to fields with required validation
Performance
Paginate loading of tags in edit nav menu tags modal
Fixes multiple N+1 while loading threads
Limit anonymization to 1 per cluster
Increase performance of large csv exports for User Histories
Accessibility
Don't output aria-labelledby when card is empty
Adjust contrast and font size for mini profiler widget
Adjust contrast for the Dark and Solarized Dark tertiary color schemes
Quelle: 3.1.0.beta6: Threads in Chat, Image Grid, Export Chat Messages, and more – announcements – Discourse Meta
Interessiert in verschiedenste IT Themen, schreibe ich in diesem Blog über Software, Hardware, Smart Home, Games und vieles mehr. Ich berichte z.B. über die Installation und Konfiguration von Software als auch von Problemen mit dieser. News sind ebenso spannend, sodass ich auch über Updates, Releases und Neuigkeiten aus der IT berichte. Letztendlich nutze ich Taste-of-IT als eigene Dokumentation und Anlaufstelle bei wiederkehrenden Themen. Ich hoffe ich kann dich ebenso informieren und bei Problemen eine schnelle Lösung anbieten. Wer meinen Aufwand unterstützen möchte, kann gerne eine Tasse oder Pod Kaffe per PayPal spenden – vielen Dank.