Die auf realitätsnahe Fahrzeugphysik in Echtzeit setzende Fahrsimulation BeamNG.drive, des deutschen Entwicklerstudios BeamNG GmbH, erhielt das Update v0.29. Das Update bringe Neuerungen und behebt Fehler. Zudem gibt es neue Fahrzeuge, Strecken, Levels, Missionen und Sounds uvm.
BeamNG.drive v0.29 Release Notes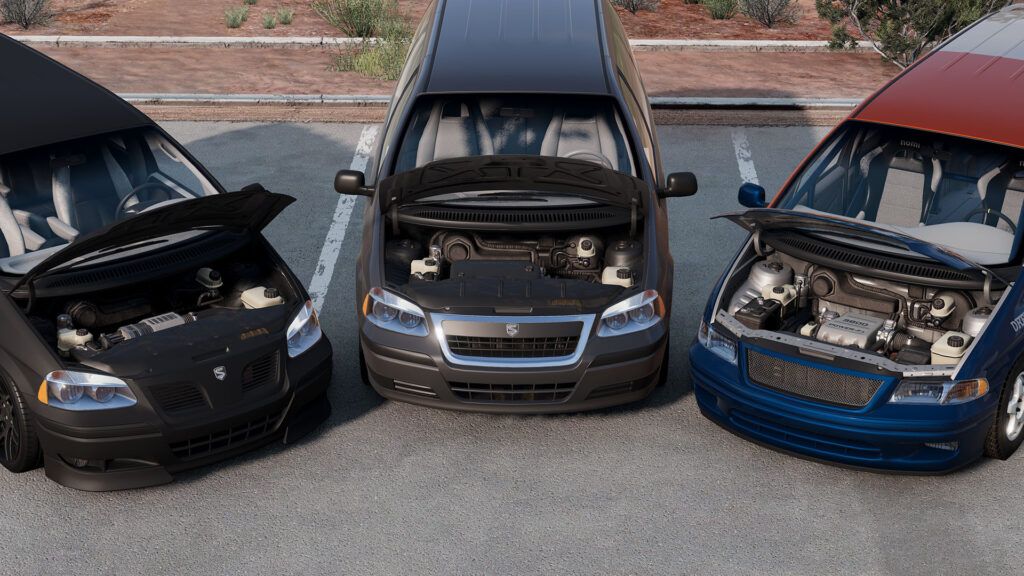 NEW VEHICLE: Soliad Lansdale
Features I4, V6 and V8 engines with AWD
With plenty of customization with body kits and off-road accessories
Includes factory cargo van, base, midrange, high-end and sport models
Diesel-powered European models
Decked-out tuner configurations
New working sliding doors
Included in the lineup of new 'Gambler 500' configurations
New Soliad wheels: Platinum (17×7), Requiem (17×7), Chariot (16×7) and Emerald (15×7)
Autobello Piccolina
Added 'Gambler 500 – La Brutta Anatra' configuration with new front suspension and bathtub

This "ugly duckling" with an Italian flair owes its existence to an antique dealer's resourcefulness and ingenuity. This unorthodox blend of salvaged Piccolina parts, a charming Italian bathtub, and agricultural rear wheels is mounted atop an extended suspension from a classic dragster. Talk about Italian practicality! Now, you can haul vast amounts of garbage and enjoy a bath with rubber ducks after a hard day's work!
Added 'Drag' configuration
Added option to install engines and transmissions from the SBR4
Updated 'Street Machine' config to use SBR4 engine
Improved and optimized rollcage and cage meshes on 'Baja' config
Improved brake meshes
Civetta Bolide
Added 6×4 'Gambler 500 – Iron Owl' config utilizing Legran drivetrain
Once burnt to a crisp, this Bolide was taken apart and reconstructed into a 6-wheel engineering marvel. Fitted with a drivetrain from the Bruckell LeGran Campagne, it channels that power to the four rear wheels for a truly unique driving experience.
Cherrier FCV

Small tweak to steering damper

ETK I-Series

Updated interior materials to PBR

Gavril D-Series

Fixed mapping on column shifter

Gavril Grand Marshal

Added 'Gambler 500 – Grand Scavenger' config
Ibishu 200BX
Ibishu Covet

Added 'Gambler 500 – The Unstable' half-tractor 3 wheeled, 3 wheel drive config
This daring abomination's story began with a rear-ended Covet that lay rotting in a farmer's front yard next to a broken tractor. Of course, the only reasonable next step would be to merge the two. The Unstable's drivetrain incorporates an assortment of PTO shafts and 90 angle gearboxes from some old mowers, and a 1.8 engine from a retired Pessima to give it a slight chance of climbing at least something.
Added 'Gambler 500 – The Incapable' half-trailer config
Constructed by a friend of the abovementioned farmer, this truck is designed to accompany the half-tractor on its Gambler adventures. Lacking a spare tractor, the creator of The Incapable opted to simply weld the back of a trailer to the Covet shell instead.
Fixed Automatic transmission shift behavior
Ibishu Pigeon
Added 'Gambler 500 – Poogeon' config with D-Series rear axle and Porta Potty
Who doesn't love a wilderness adventure with friends – fresh air, sizzling steaks, and refreshing drinks? Alas, when nature calls in a facility-deprived landscape, problems may soon arise… After ending up in a such predicament, the author of this creation has firmly pledged to never let it repeat! With a rear axle from a truck, a powerful welded bed and a technologically advanced snorkel, this little companion is able to get to any mission-critical location.
Soliad Wendover
Added 'Gambler 500 – Croco' config
Surrounded by rumbling vehicles and debris, sometimes it's so refreshing to see something green, alive… with a pair of eyes, a tail and a huge jaw! Its teeth may made of rubber bands, but it's no laughing matter when it bites.
Box Utility Trailer

Updated tailgate to use latch system
Updated lights

Common

Updated rally part materials to PBR
Updated Soliad hubcaps to PBR
Added new shared 4 inch and 2 inch LED lights

Props

Added Porta Potty prop
Added Bathtub prop
Added Engine props
Levels
Added new trash piles instances
Added new trash bags assets
Missions
Added a new Mission Type: Trash Grab – clean up a required amount of trash in the least amount of time
Added 25 new Missions across various maps:

East Coast USA: Barrel Master, Warbler Trail, Cuckoo Sprint, Sawmill Brawl, Forest Cleanup, Fields Cleanup
Industrial Site: Catwalk Capers, Race Day Renovations, Motor Head, Dirty Tires
Johnson Valley: Track Day, Desert Hauler, Rubbish Rustler, Toughman's Trail
Jungle Rock Island: Tropical Toboggan, Potty Shaker, Jungle Rumble
Small Island: HooptieX – Small Island, Pollution at the Dock, Wreck Recovery, Rough Road Test, Litter Liberator
Utah: HooptieX – Utah, Camp Cleanup, Sunshine Sprint
Gameplay
Enabled automatic headlights for missions during dawn, dusk, or night
Fixed a case of missing navigation markers for Delivery missions (if enabled)
Input & Force Feedback
Improved resilience to stick drift by increasing the default deadzone in all sticks present on Fanatec steering wheels
Added configuration for the new Moza R12 wheel base
Added configuration for Genius TwinWheel PC/PS2 steering wheel
Configured pedals in all Moza wheelbases, as well as tweaked button configurations, and improved default steering lock angle
Simucube 2 Ultimate now ships a generic configuration that is compatible with all possible steering wheel rims, rather than being tailored to only a Tahko GT-21 rim model
Slightly tweaked force feedback for the Logitech G29
Audio
Added new asphalt skid sounds
Fixed near silent bypass shocks
Improved and added new interior sounds for greater variety
Set up sounds for Soliad Lansdale
Set up sounds for Gambler 500 vehicles
Quelle: Gambler 500 x BeamNG.drive – v0.29 – BeamNG.drive
Interessiert in verschiedenste IT Themen, schreibe ich in diesem Blog über Software, Hardware, Smart Home, Games und vieles mehr. Ich berichte z.B. über die Installation und Konfiguration von Software als auch von Problemen mit dieser. News sind ebenso spannend, sodass ich auch über Updates, Releases und Neuigkeiten aus der IT berichte. Letztendlich nutze ich Taste-of-IT als eigene Dokumentation und Anlaufstelle bei wiederkehrenden Themen. Ich hoffe ich kann dich ebenso informieren und bei Problemen eine schnelle Lösung anbieten. Wer meinen Aufwand unterstützen möchte, kann gerne eine Tasse oder Pod Kaffe per PayPal spenden – vielen Dank.