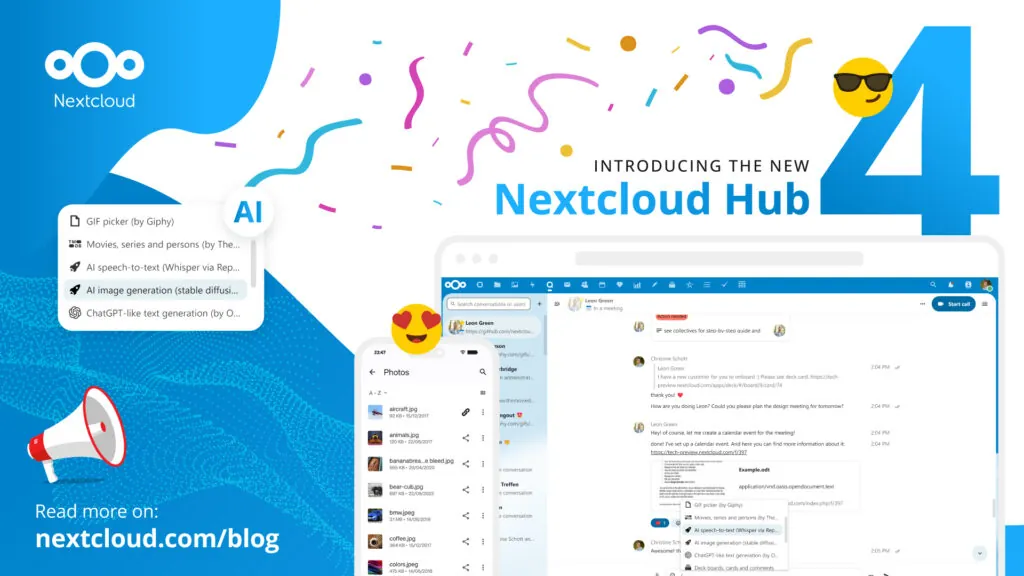 Auf Github steh seit heute die neue Version 26.0.0 der Open-Source Cloudlösung Nextcloud bereit. Das Upgrade von Nextcloud 25 HUB3 birgt jedoch Gefahr, denn es gibt einige Änderungen die u.a. in der Konfiguration berücksichtig werden müssen. Dazu aber unten im Artikel mehr.
Nextcloud 26 HUB4 Release Notes
Overview
Hub 4 pioneers ethical AI integration for a more productive and collaborative future
6 years ago, Nextcloud was just a file-sync-and-share solution similar to Dropbox. Today, we are a Content Collaboration Platform giving you a complete online productivity platform with integrated features from Talk, Office, Groupware and hundreds of apps.
Every day, you choose us to be your Content Collaboration Platform, and every year we provide you with product releases that make you more productive.
Today, we are excited to announce a major step forward with Hub 4 – the very first on-premises collaboration platform to integrate intelligent features across its applications.
The Nextcloud Hub 4 release comes at an exciting time, with the recent breakthrough of ChatGPT and AI technology being at the epicenter of mainstream news and consumer interest.
Now more than ever, businesses need to learn how to leverage the way they work with AI technologies to increase their productivity and collaboration.
At the same time, we are all too aware of the many failings of AI. Be it related to discrimination, privacy, ecological footprint or the generation of just plain nonsense, the challenges are numerous.
Our society is just beginning to comprehend the potential, impact and limitations of AI in the work world, however, while we digest this powerful technology, we've chosen to embrace it and take it a step forward, while taking our ethical obligations to you seriously.
Integrating AI into Nextcloud's collaboration platform is going to transform the way you think, work and collaborate with others.
But there is much, much more. We introduce beta apps for Talk on the desktop and Virtual Files on Mac OS. We introduce recording and breakout rooms in Talk, file attachments in Calendar, advanced versioning in Files, the new Tables app, we bring the Notes app into Nextcloud, make Deck more collaborative – the list is long. Please, read on, share your thoughts on this release with us in the comments or on social media and tell friends, colleagues and family that it is possible to have a great collaboration experience WITHOUT giving your data to Big Tech!
Intelligent features: Introducing the 'Smart Picker'
The best way to introduce our new, intelligent features is through the Smart Picker – a cross-application feature enabling users to use AI (and much more) in their daily work flow.
For the first time, users have the opportunity to work with AI in a personal and collaborative way.
To activate the Smart Picker, just type a slash (/) in the chat bar and you're instantly given a wide selection of options.
Simply type a slash (/) to activate the Smart Picker in Nextcloud Talk
With the Smart Picker, you can talk to, create with and work faster thanks to AI.
Talk to AI: Speech-to-text
Sometimes, it's easier to say something out loud. With Nextcloud's speech-to-text feature utilizing Whisper via Replicate, you can formulate text through your voice. Use your spoken words to send a message in a Nextcloud Talk chat, in an email and through many more applications.
Create with AI: Image generation
Your cloud is full of photos, and we've now made it one step easier to access them in a flash. With AI image generation, you can type in keywords to find the image you're looking for. Insert an AI generated image into a Talk chat, Notes and much more.
Nextcloud gives you two options to generate images: the online Dall-E 2 and an on-premises StableDiffusion based generator.
Work with AI: ChatGPT text generation
Recently, all the rage has been centered around the novel ChatGPT, so we've decided to integrate its relative right into Nextcloud. ChatGPT, which uses GPT-3 technology by OpenAI, is known for crafting intelligent, professional text and our version is now readily available to use in Nextcloud Talk, Office, Mail and more.
Use the Smart Picker to generate fresh text by giving the tool instructions on what you want to know. For instance, in Nextcloud Talk, ask a question that will help you construct a message to the team you are managing.
The GPT-3 text generation delivers 1 result by default, however the advanced settings allows for as many results as you want and you can even choose the model of data to use for optimal results.
Smarter collaboration with the Smart Picker
Now that we've introduced the AI features and how they work, let's talk more about the Smart Picker. The Smart Picker was created to enhance your workflow and to better collaborate. It is conveniently integrated across all your Nextcloud applications resulting in seamless collaboration.
The Smart Picker is available in Nextcloud Talk, Deck, Mail, Notes, Text, Collectives, Office and other applications.
In addition to the AI speech-to-text, image generation and ChatGPT text generation, you can use the Smart Picker across all applications to:
Share tasks from a Deck board, card or comment
Share Nextcloud Tables
Share a map location (by OpenStreetMap)
Share a knowledge database items from Collectives pages
Share videos from PeerTube
Create Text templates or pre-defined text snippets
Share Mastadon people, toots and hashtags
Share Movies, series and people (by The Movie Database)
Share Files
Share any link
Share GitHub issues, pull requests and comments
Share GitLab repositories, issues and mergers
Translate with Nextcloud Translate (via DeepL)
The Smart Picker was designed in a way to be easily expandable, so we look forward to many more apps on the store that can help you insert smart information into your documents, mail and more!
Ethical AI Rating
We thought long and hard about the ethical issues with AI. As you might remember, our previous releases did all AI related work on the server. We did our very best to find ways to classify images, recognize faces and recommend you files without leaking any data to a third party server.
But AI is moving fast, and we do want to give you the option to take advantage of innovations from third party companies like Deepl, OpenAI and others.
We can't fix all problems in the world, but we can give you a choice, and provide transparency. So, to address the obvious privacy and control challenges that come with artificial intelligence, the AI-powered features are transparently classified with Nextcloud's Ethical AI Rating. The Ethical AI Rating is based on the availability of code, model and training data so you can make informed choices. We share all about the conditions, classifications and methodology of the Ethical AI Rating in our blog.
Nextcloud Tables is an on-premises, open source SharePoint alternative that lets customers track data that is relevant to their organization, such as expenses, projects or sales leads.
It enables customers to build, manage and work with data structures, putting together easy 'apps' and connecting them to various other components in Nextcloud for automation. The flexibility of Tables allows users to tailor the table to their specific needs.
Hub 4 Product Improvements
Files, Talk, Groupware and Office are Nextcloud's key products and each have many exciting improvements and updates!
What's more, all products are integrated with the new Smart Picker with AI collaboration that will transform the way you work.
Nextcloud Files
Advanced Versioning
In Nextcloud Files, we kept older versions so you never lose the original text or one in between. With Hub 4, we're taking it to the next level giving users more control over the smart versioning mechanism in Nextcloud. It is now possible to name a version, so you can easily go back to the original copy or one created by a colleague at a certain date and time.
Nextcloud will keep versions using a time based algorithm. This keeps less precise versions over time, for example, keeping 1 version per minute, 1 per hour, 1 per day and so on. The system also acts on available file storage, cleaning up older versions when storage gets low. But named versions are always kept!

AI component: Recommended files are shown at the top of your files list and you can share them based on old sharing behaviors.
Desktop client & mobile apps
The Files desktop client has a major release on the way, however a preview version is out now of virtual files on MacOS. As for the upcoming version, a default browser selection is introduced, as well as the ability to create accounts from the command line. That is of course very useful in large organizations.
As for the Android files app, document scanning with multi-page support to PDF and PNG is now available.
The iOS Files app delivers improvements to document scanning, image editing before uploading, and office document editing improvements.
Nextcloud Talk
Jump start conversation in breakout rooms
Breakout rooms are excellent for diversifying large meetings and virtual learning environments.
In this release, Nextcloud provides full functionality to set up a breakout room, manage it, send messages and much more.
Record and track every call
For everyday work calls, there's now a recording option with a time watcher. Easily keep track of time in a call with the time watcher and never be out of the loop with session recording. After the call, simply send the recording in a chat and it will pop-up for all participants to see and utilize.
Nextcloud Talk reduced loading times, server load and notification delays by up to 99%.

Several administrator features to control permissions


Conversation ownership transfer

A dedicated iPad interface


AI component: Use the Smart Picker in Nextcloud Talk for Nextcloud Dictate (speech-to-text), Nextcloud Translate (with DeepL), Dall-E (image generation), ChatGPT technology and much more!
Nextcloud Groupware
Shared mailboxes and S/MIME support
We also introduce shared mailboxes so your enterprise or organization can be more efficient and better organize its teams and workflow.
To improve suitability for large enterprise and government organizations, the Mail App in Hub 4 introduces S/MIME (Secure/Multipurpose Internet Mail Extensions) for digitally signing and encrypting messages.
S/MIME is a security protocol that ensures secure email communication so your information is not compromised.

AI component: Use the Smart Picker in Mail for Nextcloud Dictate (speech-to-text), Nextcloud Translate (with DeepL), Image Generation (Dall-E), ChatGPT technology and much more!
Smart Picker Mail highlights
Text templates – excellent for recurring sales or support messages
GIF picker (by Giphy) – to lighten the mood in an email chain
Movies, series and persons (by The Movie Database) – Be part of the movie conversation!
Example of using ChatGPT text generation (by OpenAI) in Nextcloud Mail
Other improvements in Groupware
Support for attachments when making an appointment in Calendar
XOAUTH2 support in Mail to improve interoperability with Outlook and Gmail


AI component: The Smart Inbox in Mail is getting improvements, training the local neural network also on mail subjects to be able to better recommend you important emails.
Nextcloud Office
E2EE improvements
End-to-end encryption is designed to keep a sub-set of super confidential data safe, even if a server breach occurs. Imagine one of the hundreds of universities that use Nextcloud. The collaboration between students should be overseen by teachers and system administrators. But the HR department, dealing with very sensitive employee information, should be able to work on documents without even system administrators being able to view them. This is what End-to-End encryption makes possible. We made two improvements in this release.
First, we introduce sharing. Before, after picking a folder for end-to-end encryption, users could work in this folder and access it from all their clients, mobile and desktop, but not share it. It is now possible for the HR team to share their folders with confidential dossiers with each other!
You may already use File Drop – the Nextcloud feature that allows your external personnel, clients and partners to easily upload files to a secure cloud folder through a hyperlink.
With the new Nextcloud Hub 4 release, File Drop now includes the option to upload files to End-to-End Encrypted folders for increased security in your organization.
Receive confidential files in a secure, trustworthy way without worrying about breaches. It's simple, secure and a no fuss file exchange.
Going back to the HR department – the team can now send job applicants a link where they can securely upload their resume's directly in an end-to-end encrypted folder, shared in the HR team.
New improvements with Text and Collectives
Nextcloud Office has improved integration and performance, document compatibility and a reworked UI.
Real-time cursor tracking
While editing a document, you can now see others who are working on the document too in real-time. As they write and move about the document, you'll see their name highlighted on their cursor. Watch the additions and corrections others make to better help you work on a shared document.
Collectives
In Nextcloud Office, the knowledge base application Collectives improves the creation of new collectives and moving pages between them. It also links collectives to Files, allowing users to find the files that make up a collective and the collective associated to files more easily.

AI component: Use the Smart Picker in Nextcloud Office for Nextcloud Dictate (speech-to-text), Nextcloud Translate (with DeepL), Dall-E (image generation), ChatGPT technology and much more!
Improved text & Smart Picker in Deck
The project management app Nextcloud Deck now also uses the Nextcloud Text functionality for editing the text on cards. This makes it easier for users to add rich content and supports the new Smart Picker.
Deck also features live editing of boards by multiple people, exporting boards to CSV files and creating new tags when assigning them.
Using the Smart Picker in a Deck card. Just type a slash (/).
More in Office

Embedding videos


️ Font management


️ Watermarking official documents
Performance improvements
In this release, the loading of folder mounts and container handling has been improved by up to 20%. OCS API requests are up to 3x faster and Nextcloud Talk in particular reduced loading times, server load and notification delays with up to 99%.
New Developer Program
As an extension of this release, Nextcloud is introducing a new developer program to super-charge application development. The Nextcloud App Store has already over 300 apps in circulation, however there are countless more apps we'd love to offer and we need your help.
This release supports the latest PHP 8.2, making it ready for deployment on newer Linux distributions and taking advantage of the improvements in this release.
Quelle: Hub 4 pioneers ethical AI integration for a more productive and collaborative future – Nextcloud
Nextcloud 26HUB4 Upgrade von Nextcloud 25 HUB3
Critical changes were collected on GitHub. See the original ticket for links to the pull requests and tickets.
General
info.xml
Make sure your appinfo/info.xml allows for Nextcloud 26.
<dependencies>
    <nextcloud min-version="23" max-version="26" />
</dependencies>

Personal settings section Groupware moved to Availability
Up to Nextcloud 25 there had been a settings section Groupware with the ID groupware. As of Nextcloud 26 this section doesn't exist anymore. Existing server settings were moved to a new section Availability/availability.
If your app provides groupware-related settings, see if they make can be shown on the Availability page or need a new app-provided section.
Front-end changes
Removed APIs
Back-end changes
PHP7.4
In this release support for PHP7.4 was dropped. Make sure your app compatible with PHP8.0 or higher.
PHP8.2
In this release support for PHP8.2 was added. See release notes from PHP about new deprecations.
Migration from PHPDoc annotations to native PHP attributes
Nextcloud 26 supports PHP8.0 and later. This allows the migration from PHPDoc annotations to native attributes.
Planned removal of PSR-0 class loading
Nextcloud is still loading classes that follow the long deprecated and replaced PSR-0 standard. Nextcloud 26 is the last version that register a generic PSR-0 class loader. From Nextcloud 27 on apps have to either change class file names to match PSR-4 or ship their own (composer) class loader for PSR-0 files or. (PR#36434 by ChristophWurst)
Dependency Injection Parameters
App container parameters with pascal case names AppName, UserId and WebRoot are deprecated. Use the camel case variants appName, userId and webRoot instead if you have them injected into one of your app classes.
Changed APIs
OCP\Files\SimpleFS\ISimpleFile::getSize() may now return a float (to support sizes >2G on 32bit systems)
OCP\Files\SimpleFS\InMemoryFile::getSize() may now return a float (to support sizes >2G on 32bit systems)
It is not required anymore to call setParsedSubject and setParsedMessage on notifications and activity events when setRichSubject and setRichMessage are used a parsed version is computed automatically. (PR#34807 by come-nc)
Moved ICreateFromString::handleIMipMessage(string $name, string $calendarData): void; to its own Interface IHandleImipMessage (PR#34893 by miaulalala)
Signatures of methods of OCP\AppFramework\Db\Entity changed as follows (ref):

public static function fromParams(array $params) -> public static function fromParams(array $params): static
public static function fromRow(array $row) -> public static function fromRow(array $row): static
protected function setter($name, $args) -> protected function setter(string $name, array $args): void
protected function getter($name) -> protected function getter(string $name): mixed
protected function markFieldUpdated($attribute) -> protected function markFieldUpdated(string $attribute): void

Middlewares can be registered globally (see Global Middlewares, PR#36310 by ChristophWurst)
Removed APIs
Added APIs
Deprecated
OCP\BackgroundJob\IJobList::getJobs method was deprecated (PR#36073)
Controller action annotation @UseSession is deprecated. Use new UseSession attribute instead (PR#36363 by ChristophWurst)
Notifications jQuery event deprecated: The OCA.Notification.Action event of the notifications app is deprecated in favor of a notifications:action:executed event-bus event with (PR#728 by nickvergessen)
Changes for admins
PHP 7.4 is not supported anymore. Please upgrade to PHP 8.0 or higher.
PHP 8.2 is now supported.
The recommended webserver configuration has changed to no longer include a default redirect to the login page

For Apache this change will automatically come with the .htaccess file provided by the release
for nginx administrators should ensure that their config is up to date with the documentation

The relevant lines to remove are error_page 403 /core/templates/403.php; and error_page 404 /core/templates/404.php;
Quelle: Upgrade to Nextcloud 26 — Nextcloud latest Developer Manual latest documentation